March 2023
Overview
With the 3.9 release, we are rolling out a full integration with OpenSesame, AI authoring tools using OpenAI, and additional customization options.
Details
OpenSesame Integration
With over 30,000 courses available in its catalog, OpenSesame offers the most comprehensive catalog of curated e-learning courses in a variety of formats and languages. These courses are now supported directly within SparkLearn.*

*OpenSesame content is not included in your purchase of SparkLearn and a separate OpenSesame account is required for configuration. Learn more.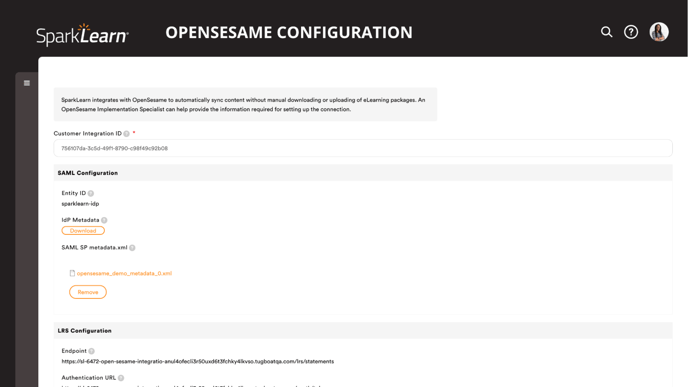 OpenAI Integration
Use OpenAI (the brains behind ChatGPT) to generate content descriptions, flashcards, and tip cards based on your content. This new tool will simplify and refine the authoring process and help you get the most out of the content you already have. Note: Using the OpenAI Integration leverages their API and is subject to their terms and conditions.

Customize Assigned Labels
Tenant Owners can now replace any of the assigned labels in the system with their own, allowing them to further customize the platform to their brand.



Enhancements and Bug Fixes
Web App
Introduces integration with OpenAI to help customers author content

Introduces integration with OpenSesame to allow customers to use content from OpenSesame's expansive library

Adds a new evaluator role that grants users the ability to see analytics about content and users within SparkLearn without granting those users the ability to edit content and users

Tenant Owners can customize certain labels for the web and mobile applications

Prepares platform for new collection and content types (Journey and Glossary) for an upcoming release

Allows content managers to input xAPI activity types for web links and eLearning packages.

Expanded content managers' ability to author content by adding new elements in the text editors.

Updated how tip cards, flashcards, and quiz cards are viewed in the content

Fixed an issue when Veracity VQL status check failed with "an unspecified error"

Fixed assigned content when user's history is deleted

Fixed a UI issue where the mobile app could shows group names for which the user does not belong

Fixed an issue where a user's notification time might be set to a different timezone
Mobile App
Updated designs and usability for all listed content
Allowed for app labels to be customized from CMS
Updated user agent semantics
Known Issues and Limitations
Web App
Content associated to tag page is not displayed when a learner visits tag after clicking on 'view more button' under tags in enhanced dashboard

Duplicate xAPI statements are logged for Time Streak 15 minute badge
Warning message is being logged when user is blocked and unblocked from users page
User is unable to edit existing annotation in article
Mobile App
When user navigates to dashboard after opening a notification, dashboard is being struck for a short period of time
Bluetooth changes causes SparkLearn to crash on Android
---
Tips for Updating
To ensure that your application is kept up to date, make sure your iOS & Android auto-updates are turned on. We have provided links below to assist you with turning on this feature. There is no need to update the CMS, as that is done automatically. If you have a customized SparkLearn instance and need help with anything, don't hesitate to reach out to our Customer Support team.
For Tips & Tricks
Visit our Knowledge Base
Check out our YouTube channel
For help with anything, don't hesitate to reach out support@gowithsparklearn.com